In Memorial To our golden friends
To submit your memorial please click here , write your thoughts about your golden friend and send us your
e-mail. You can also attach a photo of your golden, please keep below 250k.

Our first Golden was a hand-me-down from a sour familial divorce, his name was Ripley. Ripley passed from mouth cancer and so we came to Golden Endings because we love the breed. Our second Golden, Brutus came to us from Golden Endings when he was around 1 ½ years old. He hated being by himself and so we adopted a second Golden, Buddy, from an acquaintance. Buddy was a little older than Brutus but they became fast friends as only Goldens can do. Buddy succumbed to cancer in November 2013. We adopted a third Golden, Winston, from Golden Endings in December 2013. Winston was severely neglected but fit in to our family and thrived. Brutus came out of the fog of losing his beloved Buddy after Winston came along. Brutus and Winston adored each other.
Unexpectedly, Brutus became sick and passed in November 2015 of cancer in the abdomen. Winston mourned but loved the extra attention. He could not get close enough to you and loved giving hugs where he would straddle your waist wherever you were sitting. Winston started acting different in December 2015, and after a vet appointment, tumors were found in his chest wall. Cancer again….sadly Winston passed January 18, 2016.

We have lost 4 Goldens to cancer. Although it is excruciating, we love our Goldens and will likely adopt again soon.
Thank you Golden Endings for your hard work and dedication to such a wonderful breed.
Yvonne R. Holstine
Ansel's typical warm and outgoing Golden personality made him a hit with everyone he met. He was Stan's first dog and we couldn't have wished for a better breed or dog. The neighborhood kids loved to pet him but often mistook "Ansel" (after photographer Ansel Adams) for "Hansel", presumably of Hansel and Gretel. After getting groomed, he would strut around the house attempting to simultaneously bark and hold a prized toy in his mouth. He also loved eating corn off the cob—we would hold and rotate an ear and he would bite down the line just like a human. He loved other dogs and immediately took our latest addition, a mini Goldendoodle named Marvin under his wing and the two were quickly inseparable.
Ansel brought us to GEGRR instead of the reverse. One day in 2000, we were outside and he bolted suddenly around the corner. I found him with a new human friend who was lavishing him with praise and petting. It so happened that his new friend was the late Ralph Nickels, there visiting his daughter. Ralph talked briefly about GEGRR and got me interested, although it was several years later before I realized he had founded the organization.
Ansel was a very healthy dog but after almost fifteen and half years his body simply wore out and started shutting down. We made the difficult decision and euthanized our beloved boy on Friday, May 16, 2014. We are thankful to our vet, Dr. Chip Taylor, whose wonderful care gave Ansel those amazing years and whose flexibility made his final time comfortable and peaceful. And of course we are thankful to Ansel for the joy he brought and for introducing us to GEGRR.
-Stan & Heather
Dear Golden Endings...
Sunday March 18, 2001 was a day that we'll never forget. That's the day that we picked up our dear sweet loving Huntley from Ralph's home. That was our VERY LUCKY Golden Day. Huntley was a surrender to the Zanesville Pound. When we picked him up we were told that "he's a bit of an Indian", but he'll be a good dog. He was NEVER just a dog, and so MUCH MORE than just a "Good Dog". We never thought that we'd be so lucky to receive such a PRECIOUS boy. Huntley was family. We're writing this note because he just crossed the Rainbow Bridge this past Friday February 28, 2014.

Oh the joys, laughter, companionship, loyalty, LOVE that he gave to us! He was with us for 13 yrs, but the time seems so extremely short. The tears still flow, the reminiscing continues, the memories will always be there, and he will always be in our hearts.

We just wanted to extend to Golden Endings our THANK YOU for such a precious gift.
Vivi & Roger Yost Centerburg, Ohio
This is Buddy, My mom (Becky) rescued him when I was 16 years old. We had him for 7 wonderful years. He was 9 when we had to put him down in February and all of his human companions were with him when he passed away.
Bud was the best dog a family could ever ask for. He was given up because his owner was getting married and moving to Pittsburgh. A few short years later, my mom re-married and was moving to Pittsburgh. Bud was not getting left behind this time! My step-father (Russ) would never let Bud be left behind. They fell in love instantly and Bud didn't like leaving his side. He became a city dog and loved going on walks. Bud also loved waiting on the porch for Russ to come home. Bud loved many things but he loved his humans the most.
All of our hearts hurt without Bud around. He lived a great life and he added numerous amounts of joy to each of our lives. Thank you for rescuing Goldens, they are wonderful animals. Thank you for giving us Bud,
Abby and his owners Becky and Russ.
---------------------------------------------------------------------------------------------------------
<![if !vml]>
<![endif]>BUCKEYE

In 2003 my fiancée Leslie and I married thus blending our family consisting of 3 young girls, Randi, Sydney and Courtney. We heard about Golden Endings-Golden Retriever Rescue and decided to look into adopting a dog. Well within minutes of meeting Buckeye, we instantly fell in love and Buck blended with us as well. I have been around dogs all my life, but Buck was the first for my wife. I can honestly and whole heartedly say that I have never encountered such unconditional love from a dog like Buck expressed to our family. Every person who met Buck loved him. I always said he didn't have a mean bone in his body. We took in a stray kitten years ago and it followed Buck around and they became best friends. We hear and read these stories about these dogs quite often, but until you witness it first hand, you will never truly understand. Our Buck loved constant attention, endless petting, hand shaking, walks (mostly with Leslie) and had a never satisfied appetite. He loved his treats, occasional Dairy Queen ice cream cones and anything you may have dropped on the floor. He loved birthdays, holidays and any event where people gathered. He opened gifts and cards, pulled tissue paper from gift bags, anything to be involved. Buck was also the loudest Golden I have ever encountered. He barked constantly, which at times could become annoying until you reminded yourself that it was just his way of communicating with the people he loved. I honestly believe he was saying "I love you guys" over and over again. He hated seeing suitcases for our annual trip to the beach, we didn't take him with us because we traveled a long way and it was always so hot and humid. It was never hard finding someone to watch him or house sit; he was especially close to his Nana next door. My story unfortunately closes with the deeply saddening passing of our wonderful Buck. He was 12 years old the month he died and was never sick until his final weeks. We, however, are all so sick with grief and the longing to hear his bark again. Our home is so empty without him it hurts to go home in the evening without his greeting, tail always wagging. I'm sure time will heal our hearts, but not fully, there will always be an empty space that the gentlest, most caring Golden Retriever named Buckeye filled. Keep barking Buck, we will keep an ear to Heaven where we know you are watching, wagging your tail.

Sincerely,

Brad Stocking

---------------------------------------------------------------------------------------------------------
Parker was my best friend and was like my child. He recently passed away from an advanced stage of lymphoma, six weeks before his 11th birthday. He was my first dog and I couldn't have asked for a better companion. He was 12 weeks old when I brought him home. I had no idea what I was getting into, but together we figured it out and all of those years were a blast! He followed me everywhere and his unconditional love was never ending. He loved the outdoors and his backyard. He was spoiled rotten with four beds and more toys than you can image. I wouldn't have it any other way. His grandmother adored him and he adored her in return. We're lost without him. I have wonderful memories but would do anything to have him here with us. While he was sick, he did everything possible to enjoy every day. My biggest regret is not knowing sooner so I could get him some help. It took three rounds of tests to determine that he had cancer and by then, it was too late. I spent those three weeks sleeping on the floor with him thinking that he would pass during the night. He was a tough boy and held on so I had to make the decision. I made sure his last day was special - he spent the entire day playing outside just the way he would like it - one of the few good days during his illness. My mom and I were with him when he was put down - hardest thing I have ever had to do in my life. Everyone in the room got kisses - that was his specialty - which made my decision that much more difficult to comprehend. In the end, I know I had to what was best for him.
The house is so empty without him but he is still very much with me. I LOVE YOU, MY VERY HANDSOME BOY.
---------------------------------------------------------------------------------------------------------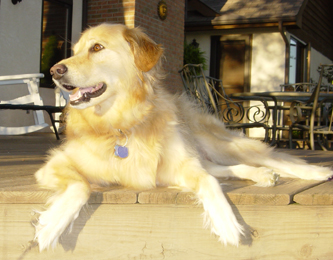 We were looking for a second dog in August of 1998 when Ralph called regarding an abused Golden rehabilitating @ Annehurst Vet..Her name is Mycle. She was 18 months old. When we met her, she was so timid and practically not moving other than huddling the wall in the room. That was the last time she would ever have to fear anyone. She got love and kisses on a daily basis! Mycle became our guard dog-chasing the mailman, garbage man, passing bicyclists, UPS man, cable guy, etc..She unfortunately passed in June of 2012. Mycle joined her four legged brother and sister. She lived a good life. Our "pretty girl" will be missed always. Thanks for all you do to save Goldens. Love, Debbie & Greg.
---------------------------------------------------------------------------------------------------------
"This is Ginger, our adorable Golden Retriever. She shared our lives for 14 years and she will always live in our hearts. She had wonderful Cocker Spaniel buddies, Keyser and Nikki, whom she played with all through her life. Her "grandma" loved her so much she had Ginger sit in her lap. All you could see was Ginger!

Ginger loved the water. When we took her to the lake, she darted into the water and waited (not very patiently) for us to throw the ball to her. She was gentle with other dogs who grabbed the ball, but then she snatched the ball first the next time! When Ginger caught the wet, soggy ball, she lunged through the water to us, drenching us, then she dove back into the lake, to catch the ball again. We never exhausted her, but she exhausted us!


We expect to be reunited with Ginger some day, and again we will have 80 pounds of a gentle, loving, furry, golden lapdog! Love, Deb and Nancy"
--------------------------------------------------------------------------------------------------------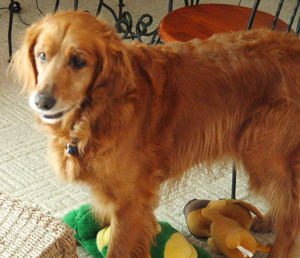 Dear Golden Endings Rescue, I was so pleased to see the memorial site on your page. I just lost my Cooper last week and it was so hard. He would have been 13 this month and led a very healthy life. My son & daughter-in-law got him when they were still in high school but he has been at my home from the very beginning and the past 6 yrs it has just been he and I. My life revolved around him and he was truly my best friend. He loved car rides, walks and bread. That was his favorite treat! LOL He was very hyper but when my grandkids were born he just seem to realize he needed to be gentle with them. They all loved him, especially my youngest granddaughter who called him her bubby, and brother because her mom and dad were also his mom and dad, since they bought him. He played well with other dogs as well and even though he was usually older he hung right with them. His best friend, Neelie, my sister's Doberman will miss him. He will always hold a very special place in my heart. I loved him so much and always will. It's still very hard for me at times but I have wonderful memories and will hang on to them forever. Anita
--------------------------------------------------------------------------------------------------------
Dear Golden Endings Rescue, Thank you for the opportunity to add my beloved golden "Murphy" to your memorial. Murphy was my second golden, I lost my first goldie "Molly" to cancer in 1996.

I got Murphy at 8 weeks old and I had her for 12 years. She was incredibly smart, funny, talented and beautiful. I was lucky enough to be able to take her with me to work every day for the first five years of her life. When we moved to Ohio in 2001 and got a new job she had to stay home and that was sad for both of us.

Unfortunately Murphy got an eye disease called Pigmentary Uveitis and lost her right eye in 2004. We opted for a prosthetic though and she was a trooper through that and the years that followed. Since the disease is (usually) bilateral she required medication and eye drops in her good eye several times a day for the rest of her life.

She never gave me a hard time about getting those eye drops and medication - it simply was part of her routine. She'd come when I called for her and sit patiently while I put the drops in, gave her medication and of course kissed her afterwards on the head for being so sweet.

She went with us everywhere. On vacations, to visit family in other states (many!) and on cross country skiing adventures, hiking, and camping. Murphy loved life and going where ever - the store, the bank, oh and her favorite - Dairy Queen.

It was a year in August since we lost her and my heart still aches without her - even though we have adopted two new dogs and fostered several over the past year. I wear a locket that contains some of her ashes so she is always with me. Her picture and story are on the wall at The Dog Chapel in Vermont.

I admire the work you do to help these wonderful dogs find homes and the help they need and deserve to have happy lives. There are so many tragic situations out there that cause dogs to end up homeless.
So - thank you.

Thank you again.
Sincerely, Deb Holdren

---------------------------------------------------------------------------------------------------------
Dear Golden Endings Rescue,

How wonderful to find a spot to memorialize my amazing Golden, Jordan. I lost her at age 14 only a few weeks ago. I now find myself going to Golden sites on the web to see her face again, and contemplate whether or not I am ready to open my heart to another Golden.

Her apparent goal in life was to take care of me, and she did a good job with that. Even toward the end of her admittedly long life, her concern was always for me. When she could no longer jump on my bed at night, I slept with her on the floor so we could touch each other, and she died in my arms.

I had never known such a happy dog. She was always smiling, and never let on that she might not feel well. I never met anyone who did not fall in love with her, and she pretty much loved everyone she came in contact with - and if she was stand-offish with someone, I stayed clear of that person. She certainly let me know if there was anyone coming close to the house, but I used to joke that if anyone ever broke in she would just love them to death.

One of my favorite memories of her was her bath time. I would tell her it was time for her bath and get her shampoo from under the kitchen sink. She would follow me into the bathroom and when I would get her towel from the linen closet, I would turn around and find her sitting patiently in the tub. She had a very close relationship with our big grey tom cat who helped raise her. They bathed each other frequently, and I think he misses her as much as I do.

I have had a hard time dealing with her loss. My children tell me that she was lucky to be loved so much and that she knew it. But I know that I was the lucky one to have had her open her life and her heart to me.

Thanks for all you do,
Karla Smith